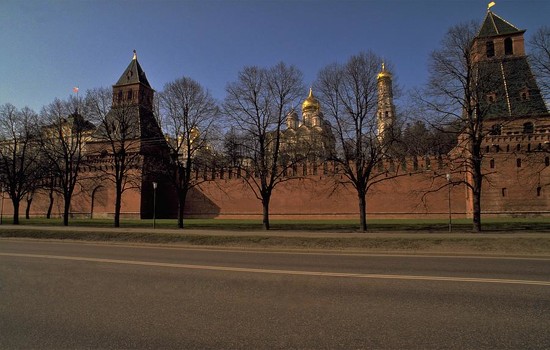 Outside the Russian Kremlin in Moscow.
It is a sunny day in late winter. There is no longer snow on the ground but it is still very cold and spring feels a long way off.
The lack of foliage on the trees allows us to see through to the golden onions of the Russian Kremlin Churches – the Assumption and Annunciation Cathedrals (left) and Archangel's Cathedral (centre).
The Ivan the Great Bell Tower – said to mark the exact centre of Moscow – is the tall golden dome on the right.
In Russia, the word Kremlin implies a medieval, inner-city fortress. In earlier times it would have probably meant a fortified town, or town surrounded by a wall.
There are therefore a number of kremlins in Russia; although when we talk about The Kremlin, we usually mean where the workings of power take place in the Russian capital, Moscow.
As well as being the official working residence of the Russian President, the Moscow Kremlin also houses Russia's main museum.
The outer red brick wall of the Moscow Kremlin was built at the turn of the 15th and 16th centuries; replacing the earlier fire hazard, made of wood.
The tower on the left is The Secret (Tainitskaya) Tower and to the left of that is The Grand Kremlin Palace.